Join Teamgroup
TEAMGROUP focuses on Taiwan and operates steadily.
We continuously cultivate and develop talents, constantly provide an environment for learning and growth.
Like-minded friends, opportunities are yours to create.
If you also want to become a member of the Team Group elite,
no matter where you are, whether in Taiwan or overseas, click
here
to register your resume now.
If you have any questions about job hunting, please email to:
hr@teamgroup.com.tw
Welfare System
Well-paid Incentive Compensation
Reasonable and competitive salary
Year-end bonuses and employee compensation based on annual operations, individual attendance, and annual performance
Senior staff bonus
Special contribution bonus
Product development bonus
Staff proposal/suggestion bonus
Considerate Living Services
Lunar New Year red envelopes
Festival gifts
Birthday gifts
Marriage gifts, childbirth gifts, injury and illness compensation, funeral compensation
Leave system and insurance in accordance with the Labor Standards Act
Employee health check; travel insurance
Multiple Benefit Measures
Domestic and overseas corporate retreat
Annual year-end banquet
Purchase offer for company product
Books, newspapers, and magazines available in diverse fields for reading/borrowing
Smooth communication channel
Labor Retirement System
The Company established the Employee Retirement Regulations in accordance with the Labor Standards Act, stipulated the employee retirement criteria, benefit standards, retirement application, and pension in the Code of Conduct, and established the Supervisory Committee of Labor Retirement Reserve to allocate employee retirement reserve fund monthly in accordance with the Regulations for the Allocation and Management of the Workers' Retirement Reserve Funds and deposit in dedicated account in the name of Supervisory Committee of Labor Retirement Reserve at a statutory financial institution.

Since the implementation of the new pension system in July 2004, for employees who choose the new system, the Company has made an additional contribution of 6% to the employees' personal accounts at the Bureau of Labor Insurance; for employees who retain their prior seniority under the old pension system, the Company has made appropriate monthly contributions to the retirement reserve in accordance with the original regulations.
Learning & Career Development
Comprehensive education and training
We respect employees' self-growth goals and career planning and encourage them to participate in training courses, technology sharing, job and departmental rotations, career development courses at external academic training institutions, short-term training courses, and other channels to enrich and improve professional skills, stimulate their inner potential, create self-worth from work, enhance personal career development, and grow with the organization.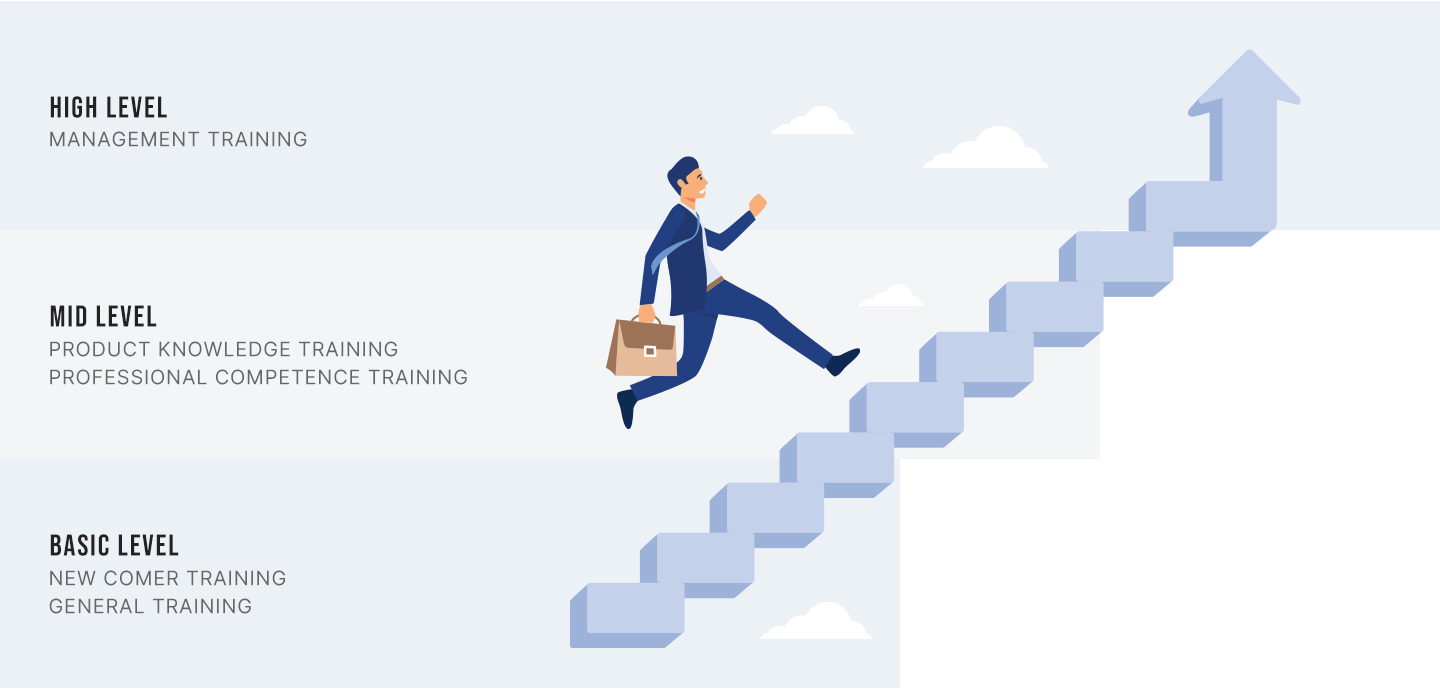 Transportation Guide
TRAFFIC INFORMATION:
To MRT Jingan Station

Take the "908", "921", "796" and "1080" bus (Destination bus station - Overseas Company, or Intersection of Liancheng Road and Zhonghe Road)

To MRT Banqiao Station

Take the "307" bus (Destination bus station - Overseas Company, or Intersection of Liancheng Road and Zhonghe Road)

To MRT Fuzhong Station

Take the "57" bus (Destination bus station - Overseas Company, or Intersection of Liancheng Road and Zhonghe Road)